How to make a simple and effective budget?
How should you properly allocate the expenses in a personal budget?
An overview of the ideal distribution of the main budget expenses is as follows:
for housing, you should not allocate more than 25% of your net income. This category would include rent, mortgage payments, taxes, and heating;
for transportation costs, no more than 20%;
for food / groceries, 10 to 15%;  and
for savings, 10%.
Monthly payment for debt
As recommended by the banks, the monthly payment for debt should never exceed 15% of your net income.
Where do you start?
Budgets are divided into 3 main types of expenditures:
Fixed
These expenses are easy to figure out as they come around every month. They are known in advance and vary very little from one month to the next (ie., rent, car payments, insurance, etc.).
Variable
These are the expenses that come around on a regular basis, but may vary from month to month (ie., food / groceries, personal expenses, clothing). Unless you make note of these expenses for at least two months, it would be difficult to forecast them accurately. Therefore, you should start by estimating the expenses and adjusting them afterwards by the amounts actually spent.
Irregular
These expenses may occur at any time during the year and the amount is often not known in advance (ie., car repairs, home maintenance, tires). They must still be estimated and an amount should be set aside every month as a contingency fund.
Savings
You should set aside at least 10% of your monthly net income in order to create:
Short-term savings
Working capital equivalent to 1 month of expenses to avoid having to rely on credit to pay for current living expenses.
Medium-term savings
An emergency fund equivalent to 3 months of salary in the event of illness, loss of employment, or urgent repairs.
Long-term savings
A retirement fund (RRSP, TFSA, and RESP).
''An ounce of prevention is worth a pound of cure'' have a small amount deducted from every pay cheque. You will learn to live without this money, and you will save without realizing it.
Involve the whole family
Involve your children/dependants in the process of the development of the family budget, particularly in the areas that may concern them (ie., allowances, holidays, entertainment, activities, sports, school supplies, etc.). The exercise will be beneficial to them in the long run and they may even become more aware of the fact that money is a rare commodity!
In closing, here is an example of a "typical" distribution of budgeted expenses: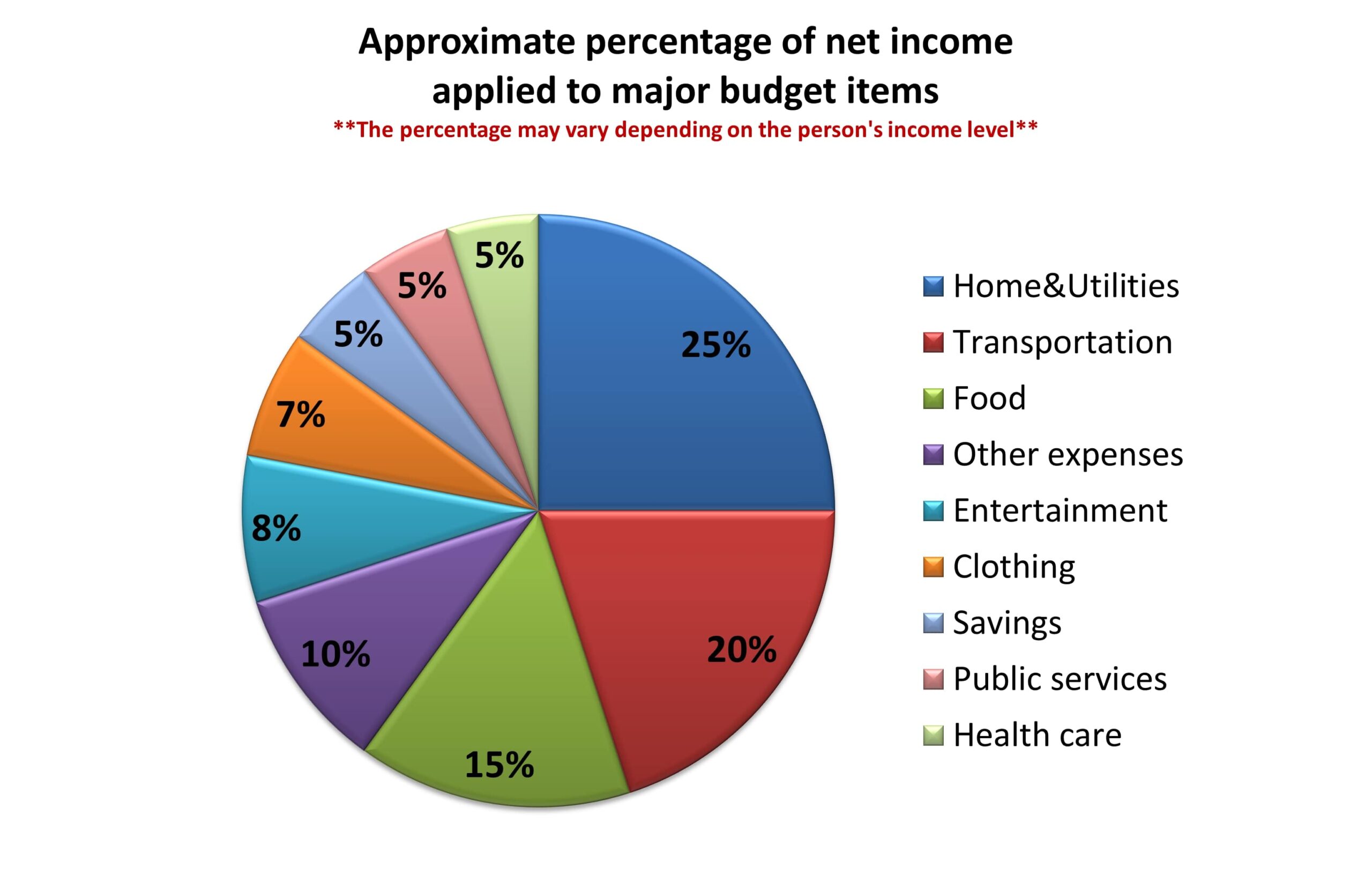 To create your own budget, you may go to our online budget tool. Our tools will help you keep track of expense categories and easily calculate amounts. Should you have any questions or require any assistance, please do not hesitate to call.
Good luck!